20.2.2010: Last two red and white puppies available - litter V
The last two red and white puppies (Puppy No. 1 and 3) are available.
Litter V:
Sire: Busy-Body from Cheering JP'S
Dam: Holly Bee Ruby Star

Previous successful litter comming from this liasion was litter S. Both parents have negative eyes tests (PRA and cataracts).

In the case of interest feel free and contact us. Puppies are grown in our home, they have full-day care. Puppies are dewormed, inoculated and they have international passport.

Busy-Body from Cheering JP'S - achievements: JCH SR, CH SR, veteran CH SR, CH ČR, Grand CH ČR, JCH HU, Club. youth winner, Winner of a youth special show, Club winner, CAC, CWC, HFGY, CACIB, r.CACIB, BOB, BIS II. KV, 2nd BIS veteran Nitra 08.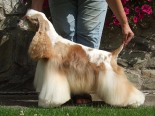 Busy-Body from Cheering JP'S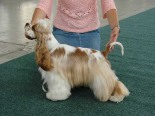 Holly Bee Ruby Star

Štěňátko 1/Puppy No. 1

Štěňátko 3/Puppy No. 3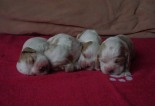 štěňátka - stáří 1 týden/puppies - 1 week

Vrh V - 1 měsíc/Litter V - 1 month
Štěňátko 1/Puppy No. 1

Štěňátko 1/Puppy No. 1

Štěňátko 2/Puppy No. 2
Štěňátko 2/Puppy No. 2

Štěňátko 3/Puppy No. 3

Štěňátko 3/Puppy No. 3

Štěňátko 4/Puppy No. 4

Štěňátko 4/Puppy No. 4